Posted by superior on 12th March 2010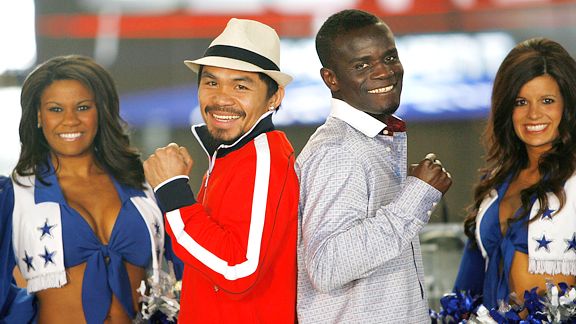 Picture courtesy of ESPN.com
From ESPN.com
"Both sides, no trash talking," said Pacquiao, who will defend his WBO welterweight title. "We can be a good example to everybody."
Not only is Manny Pacquiao afraid of getting blood drawn, he has found a new passion in the serenade. While bettors are busy waging on whether Pacquiao or Joshua Clottey will be the WBO welterweight champion, Pacquiao is working on a new hit single to woo his audience after the fight. While the Pac Man doesn't want to trash talk, preemptively filling a stadium for your own post-fight concert crosses the line of presumptuous pontification.
The fight has already sold most of the 45,000 seats required to teeter on the edge of profitability. Will Pacquiao's promise to be both the WBO welterweight champion and newest American Idol stoke Joshua Clottey's fire, or will Pacquiao sing his way to victory?
Perhaps if Jerry Jones spent more time managing the Cowboys than arranging concerts at the new arena, the Cowboys could make it to the Super Bowl. Either way, this just made a good fight even more interesting.
-Zach Superior
Tags: Boxing, Cowboy's Stadium, Cowboys, Dallas, Joshua Clottey, Manny Pacquiao, Texas Stadium
Posted in Bloggers, Boxing, Original Content, Zach Superior | No Comments »